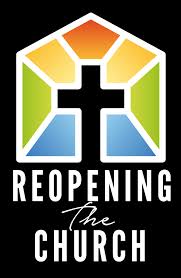 St. Paul's Presbyterian Church
517 Main Street, Box 879, Winchester, ON K0C 2K0
The Sessions from Morewood, Chesterville and Winchester met on June 17, 2020 and a decision was made to open the churches starting Sunday, July 5.
All three churches will remain open all summer.
In preparation for reopening, the board and elders are following the guidelines provided by the Public Health Unit and documents provided by the Presbyterian Church of Canada. The following plan has been developed to ensure your safety.
1) All common areas will be cleaned and sanitized regularly with special attention given to areas of high touch including backs of pews, washrooms and door handles.
2) Pews will be marked to ensure social distancing.
3) Hand sanitizer will be available, and everyone will be required to use it on entry.
4) Hymn books will still be able to be used but you are asked not to share except with immediate family.
When you arrive for worship, you will find some things different:
1) New people to the church will be asked if they have been in the province for at least 14 days and an attendance record will be kept so that we can notify people in case someone becomes sick in the days following the service.
2) You will be asked to keep a social distance between one another as you enter the sanctuary and when exiting the sanctuary. Please follow any directions given by greeters.
3) You will be asked to leave your offering in a plate that will be on a table just inside the main door.
4) You will be asked to sanitize your hands and then immediately proceed to take a seat where you will stay for the duration of the service.
Please do not stand in the aisles and visit. You may visit with people outside the building after the service.
5) Separate children's activities will not happen for the immediate future. Families are welcome to bring their own toys and books. The Sunday School hall and kitchen will be out of bounds.
If using the washroom please enter across the back of the sanctuary.
6) If there are responsive readings or other participatory responses, you are encouraged to keep your voice low.
7) For the hymns, you are encouraged to sing softly.
8) The use of printed bulletins will be suspended till further notice.
9) Families are asked to sit together and children are to remain with their parents.
Finally, you are encouraged to attend services only if you are comfortable. Online services will continue.
If you are not comfortable returning to in-person services and are unable to access online services, please contact your elder and a copy of the Sunday service will be made available to you.
If you have any questions or concerns, please contact your elder.
Blessings to all
Bruce W. Kemp
Rev. Bruce W. Kemp