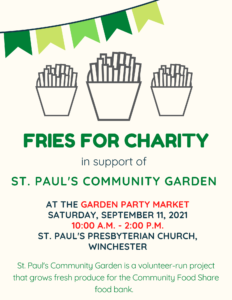 Note from Leslie Levere, Garden Coordinator:
Leslie Scharfe and I are so appreciative of the work that the church members put into the Fries for Charity event, both leading up to and during the fundraiser on Saturday. From organizing the event with Al and Judy and prepping the potatoes (500 lbs worth!) to collecting donations and filling basket upon basket with cut potatoes, we are extremely grateful for your help and your encouragement!
This past weekend, it was amazing to see the support of the community garden from the community itself. With the funds raised ($2,710) , not only will we be able to cover the regular expenses of the garden, but we can also brainstorm new projects at the garden, as well as support the new butterfly/pollinator garden.
To show our appreciation of St. Paul's, we would like to make a donation of $500 to the church from the funds raised during Fries for Charity. The event really would not have been possible without you. Thank you again!
As we start to wind down the season for this year, we're looking forward to harvesting the last of the produce over the next several weeks. And then we can start dreaming of next year's garden!