Welcome to St. Paul's Presbyterian Church, located in a picturesque setting on the corner of Main and Louise streets in Winchester, Ontario!
We extend an open invitation for anyone to join us for our Sunday morning service, 10:00 am, or to participate in any of our other programs listed in our schedule of events.
Please enter through the East door off Louise Street beside the wheelchair ramp.  Be comfortable – Come Casual!
We would like to welcome our newly appointed Interim Moderator!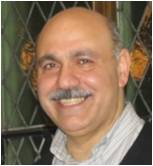 We welcome the Rev. Samer Kandalaft as our Interim Moderator.
Rev. Kandalaft is the Minister of Knox, Mountain and St. Paul's in Kemptville. He is looking forward to working with the leadership and members of the congregation as you begin your search for a new minister.
Interim Moderator:
Reverend Samer Kandalaft
e-mail: samshahr@hotmail.com
Phone:613-258-6654