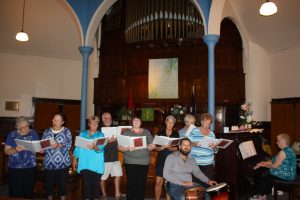 Organist: Arlene Nesbitt
Front: Libby Pelkey, Helen Kerr, Kathy Spruit
Back: Jan Clapp, Heather Hutt, Karen Skuce, Heather Pemberton, Jorris Zubatuk, Rev. Bruce Kemp,
Harry Castle
St. Paul's Presbyterian Church choir is a dedicated, music-loving group of volunteers who attend practice and Sunday service faithfully each week. Through Christian joy and love the choir share their music with an appreciative and supportive congregation. New friends that would like to sing with us would be most welcome.
On January 26, 2020 our very talented choir thrilled the congregation with the musical "Whats up Zak!" This is the third musical presentation by the choir joining Jonah and Noah in their musical exploits!