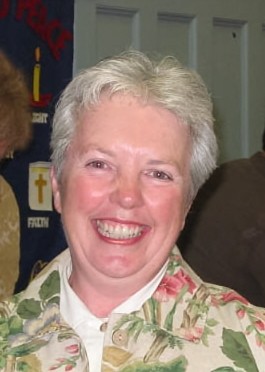 GOD'S SPIRIT AT WORK
Message: God's Spirit at Work
Today our service of worship celebrates the mission and ministry we do together through Presbyterian Sharing.  We join with other Presbyterians to proclaim the good news of the gospel in Canada and around the world.   Presbyterian Sharing helps develop innovative ministries for children and youth.  We equip leaders to do effective ministry.  We support, encourage and enrich congregations in the areas of worship, evangelism and mission, Christian education, stewardship, planned giving, leadership and congregational development and renewal.  We help ministries to grow.  Together through PS we speak up for the voiceless and support healing and reconciliation.  Supporting Presbyterian Sharing is a marvelous way to participate in the life giving mission of God.
How many of you followed Pope Francis when he was in the Cuba and the US.  I was very inspired by the man and his focus on the family and those who are in search of a better life.  In his presentation to Congress one paragraph has a lot of meaning for us and our commitment to Presbyterian Sharing. 
Let us treat others with the same passion and compassion with which we want to be treated. Let us seek for others the same possibilities which we seek for ourselves. Let us help others to grow, as we would like to be helped ourselves. In a word, if we want security, let us give security; if we want life, let us give life; if we want opportunities, let us provide opportunities. The yardstick we use for others will be the yardstick which time will use for us." — Address to Congress, Washington D.C.
Todays theme is God Spirit at work.
Spirit comes from Hebrew and Greek roots meaning breath, air, strength and wind.
In our Old Testament reading today we find Moses inviting 70 leaders of the Israelite community to join him at the meeting tent erected outside of the camp. The meeting tent was the place where the community prayed and worshipped God.  We are told that, in that tent, the leaders will receive the gift of the Holy Spirit so they can share with Moses the burden of caring for the Israelites, who are still wandering in the desert after escaping a life of slavery in Egypt. The elders are filled with the Spirit, as promised, and begin to speak the words of God.          But two leaders do not join the others. For some reason Eldad and Medad stay in the camp with the rest of the people. Even though they aren't with Moses, the Spirit descends upon them and they, too, begin to prophecy and speak the words of God.            A young man notices this and runs to Moses to report what he has seen. Joshua, who is with Moses, calls on him to stop these two rebel elders. After all they are prophesying improperly and outside the meeting tent.            But Moses doesn't see it that way. Instead, he asks, "Are you jealous for my sake? I wish that all the Lord's people were prophets and that the Lord would put his Spirit on them!" We hear of a similar story happening to Jesus years and years later.          The disciples are faithfully following Jesus, learning from him as they go. But one day they notice strangers driving out demons in Jesus' name and try, unsuccessfully, to stop them.           Later, they tell Jesus about the incident. Like Joshua, the disciples thought Jesus would want this unusual behavior stopped.  Instead he surprises them by saying "No one who does a miracle in my name can in the next moment say anything bad about me, for whoever is not against us is for us."           It's a message that appears again and again in the Bible: God works in unexpected ways through the words and actions of all types of people to bring about God's mission.
The Holy Spirit continues to work through all sorts of people today – some of whom we know, others we will never meet. God even works through you and me.  The scriptures remind us that the God who holds the great earth and vast sea in his hands, as the psalmist puts it, is not restricted by human notions and limitations.  God touches human hearts and accomplishes wonders in ways and places we may never anticipate.
Today, as we reflect about our mission and ministry through Presbyterians Sharing let me share with you a few places where God's amazing spirit is at work through some of the ministries we support together in Canada and around the world.
As a Community Health Advisor, Michelle Verwey is a PCC mission worker serving alongside our Church of North India partners in central India. Together they plan and implement community health projects in the Vindhya-Satpura region. Recently Michelle has begun helping the Mendha Local Committee plan a new project.
Presbyterian involvement in the Mendha area began when missionaries planted a church there in the early 1900s.  Even then, it was one of the poorer regions in the area. Michelle works with a community committee made up retired nurses, community leaders and others – including some local members of the church. She provides technical advice, encouragement and support as they decide on projects that will make a difference in the community.
Currently the community is looking for ways to train subsistence farmers in ways to increase crop yields. It also hopes to provide women with skills training and encouragement so they can form groups to save money, open bank accounts and access loans.  This will allow them to purchase farming materials to increase crop production, pay for their children's school fees and start small local businesses such as a community store.
The work has only just begun, but part of the long-term vision for the Mendha project is to help children finish school and provide adult education in reading, writing and basic mathematics. The committee hopes this will reduce the vulnerability of families to chronic poverty.
Can you see the Spirit of God moving – through the actions of Michelle and the local committee – as they serve one another to declare good news to the poor?
Heritage Green Presbyterian Church was planted in the late 1980's with a vision of reaching the families of Upper Stoney Creek, Ontario, with the good news of Jesus Christ. Through a series of tragic events, this vision was never fully realized and by 2013 there were only a dozen or so worshippers on Sunday mornings and virtually no children. Despite the fact that the community around them was rapidly expanding with young families, it looked like Heritage Green might close.
But God planted a new vision for a family-focused ministry that would look completely different from the community that was worshipping there. It would have two ministers – even though the congregation couldn't support even one. It would focus on family ministry – even though there was only one family in the congregation.
The kind of radical change required an enormous leap of faith for the existing congregation. In order to see this vision come to life, they would have to become the "soil" for this new replant. The congregation was invited to receive and nurture new families with love, acceptance and faithfulness. Help from the Presbytery of Hamilton and Presbyterians Sharing would help these seeds of faith grow.
The congregation soon discovered becoming soil isn't particularly glamorous! In fact, it required dying to who they were in order to see something new come to life, but the vision was exciting enough to make the risk worthwhile. So the congregation said "yes" and the replant began.
Just nine short months later, Heritage Green has turned a new leaf!  Easter Sunday 2015 was celebrated with over 100 worshippers, a full third of whom are children. With an average weekly attendance of well over 60, there is new life springing up everywhere. Many of the families have never attended a church before.  They are encountering Jesus and asking questions like: What does God require of my life? What is the kingdom of God?
Can you see God's Spirit at work as people risk change? The church is still in the early stages of this replanting story and everyone is excited to see what God has in store next!
These are stories of God at work in the people around us. We participate in these wonderful ministries through our gifts to Presbyterians Sharing. Let us thank God that the Holy Spirit continues to be at work in these and other unexpected and exciting ways.
And may we hear the words of Moses who said: "I wish that all the Lord's people were prophets and that the LORD would put his Spirit on them!"
Life-Changing Mission "What does the Lord require of you but to do justice, and to love kindness, and to walk humbly with your God?" (Micah 6:8) The Spirit of God invites us into life-changing mission. We are surrounded by a world in need. As servant of God, we are called to give voice to the voiceless all around us who have given up hope that life can be better. We are called to forge partnerships in mission and service to give witness to Christ's love for all people. Therefore it's not the size of our church that matters, but the size of our hearts joined in faithful service. We understand that reaching out is a continuing commitment. It takes time. Jesus teaches us to treat the people's need for healing, justice, and mercy as holy and tells us to "Love your neighbor as yourself". Because His love knows no boundaries, neither does our service.
Mission is part of the "grammar" of faith, something essential for those who listen to the voice of the Spirit who whispers "Come" and "Go forth". Those who follow Christ cannot fail to be missionaries, for they know that Jesus "walks with them, speaks to them, breathes with them."
Our world is facing a refugee crisis of a magnitude not seen since the Second World War. Thousands of people are escaping persecution in their countries and travelling in search of a better life for themselves and for their loved ones, in search of greater opportunities,"
"Is this not what we want for our own children? We must not be taken aback by their numbers, but rather view them as persons, seeing their faces and listening to their stories, trying to respond as best we can to their situation."
We must try to embrace the whole of humanity and those that listed in Matthew 25 – the poorest, the thirsty, the hungry, the stranger, the sick and the naked.
May God bless you. May God give you strength. May God strengthen you to keep moving forward.
When you find yourself in the position to help someone, be happy and feel blessed because God is answering that person's prayer through you.  Remember our purpose on earth is not to get lost in the dark but to be a light to others so they may find their way through us.
I want to leave you with some Godly reminders
Today, don't harden your hearts
Above all, love the Lord your God
Love your neighbor as yourself
Trust in the Lord with all your heart
Be still
Do not fear
Be strong and courageous
Give cheerfully
Be grateful
Be obedient to God
Glorify God always
God Bless You
And remember Today I am blessed.
Let us Pray:
Thank You, Father, that You are the God of the small things as well as the large things. You give us such pleasure in the everyday sights and sounds of Your creation, as well as the constant assurance of Your never-ending presence. May we never take these blessings for granted. Amen.