Note:  Due to Covid 19 our normal group activities such as Ladies Aid has been suspended.  Sunday School and Choir practice have recently been reinstated.
LADIES AID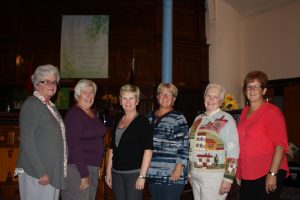 St. Paul's Ladies Aid Executive
Donna Wilson, Carol Zubatuk, Libby Pelkey, Kathy Spruit, Phyllis MacMaster, Doris Baker
St. Paul's Ladies Aid meets the first Monday of each month at 7:00 and welcomes all ladies to attend. This group tries to support the other groups of the church and the many events that take place throughout the year. We enjoy what we do and there are smiles, stories to share, and time for laughter. It is a time for fellowship.
All the ladies of the church support what we do whether they attend our regular meetings or not. We cater to important times in our congregations' lives as requested… birthdays, anniversaries, and funerals.
All ladies are invited to attend and friends are always welcomed. Each meeting centres around a short devotional time with readings, music and prayer. There is often a speaker invited or a special activity planned. We are always looking for new ideas to try. Each meeting ends with lunch and time to visit.
We support local mission and various groups and organizations…the Food Bank, Snowsuit Fund, Winchester Legion, CanHave, Operation Christmas Child, etc.
We end our year with a Christmas pot luck dinner and Worship Service. Once again our community friends and neighbours join us for a special start to our Christmas Season and the offering from this service goes to a group in our community.
We welcome all ladies to come and join us and enjoy our time together.
For information contact Libby Pelkey or Doris Baker.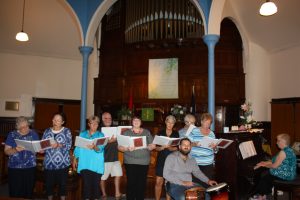 St. Paul's Presbyterian Church choir is a dedicated, music-loving group of volunteers who attend practice and Sunday service faithfully each week. Through Christian joy and love the choir share their music with an appreciative and supportive congregation. New friends that would like to sing with us would be most welcome.