We welcome families and children to join our Sunday School program with fun filled stories, crafts and activities! Teachings are geared to children of all ages to keep them engaged and excited to come to church.
You will find…
A space for toddlers to play in a safe zone with a wide selection of toys
An organized craft area to do activities and story-time with older children
A youth hangout room with games, comfy futon and TV to enjoy during coffee time
New friends to connect with in the community
A place to grow faith, practice prayer and learn teachings of the bible
May 13, 2023 – Kicking Off Summer with FREE Freezie Stand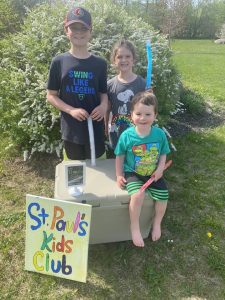 St. Paul's Kid's Club at Garden Market
The Garden Party Market has been taking place on the St. Paul's lawn for a couple of years now. The St. Paul's kids club has a stand for the first time this year.
This past weekend we were giving out freezies and water to whoever would like one. Any donations are being allocated to the youth programs at the church. We raised $52.50 in donations.
Our Sunday school kids will be taking turns at the booth again in June, August and September. Come by to say hi!
Every Child Matters!
On May 7, 2023 he children of St. Paul's planted  a special garden to commemorate Indigenous Children who were wrongfully taken from their homes and institutionalized in schools.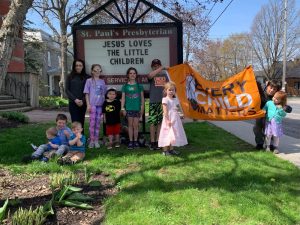 The kids enjoy learning and performing songs for the congregation:  Check out the video found at:
CEE5CC47-3A6D-41AE-8322-5766C3689ADE
Curriculum:  52 Mighty Messages features 52 easy and fun messages for the children to learn about God and the Bible.  The lessons include story, scripture, crafts and games followed by a certificate of completion.  The kids enjoy their accomplishments!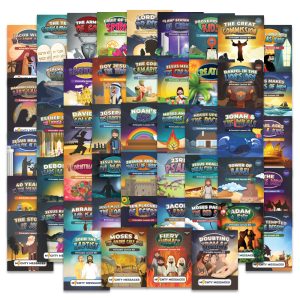 Looking for activities to do at home?
View videos and colouring pages