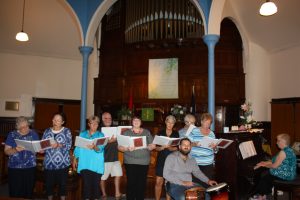 Organist: Arlene Nesbitt
Front: Libby Pelkey, Helen Kerr, Kathy Spruit
Back: Jan Clapp, Heather Hutt, Karen Skuce, Heather Pemberton, Jorris Zubatuk, Rev. Bruce Kemp,
Harry Castle. Patrick Jeaurond on the drums.
St. Paul's Presbyterian Church choir is a dedicated, music-loving group of volunteers who attend practice and Sunday service faithfully each week. Through Christian joy and love the choir share their music with an appreciative and supportive congregation. New friends that would like to sing with us would be most welcome.